HUVUD Toolboard
Regular price

$65.00

Sale price

$45.00
BACK IN STOCK!!!
V.62 Keeps all the HUVUD you trust but adds a termination resistor+Jumper, and capacitors for a cleaner accelerometer reading!
Now at a lower price to boot!
Speaking of Boot-ing, Huvuds will come pre-flashed with CANBOOT!
Use the bundle widget above to get quantity discounts.
If you're looking for setup, configuration, and other questions join my discord!
https://www.youtube.com/watch?v=Pi5cdTiGjwY - Great video explaining why CAN toolheads are so interesting!
Controller Board designed for use with Klipper firmware, especially for extruders to simplify wiring without losing features. Comes with complete connector set needed.
The HUVUD toolboard is designed to simplify wiring and configuration for extruders on klipper-based machines, particularily useful for toolchangers or extra large machines, but provides advantages for even the smallest of machines.
CAN adapters in the meantime (aff links):
Waveshare - Good for One HUVUD
Innomaker - I've used this on 3x printers with a single huvud. I can work to find the firmware version with the multi-huvud fix.
All Sales support the original creator!
Key Features (V.62):
Simplifies Wiring for any extruder head down to 4 wires - Skip the wire bundle!

Designed for serial tunneling through CAN

Now comes with modifiable traces to enable direct serial thru the 4pin header
Now comes with jumper for termination resistor!
Uses a 32bit STM32F103 MCU

IO include:

3x Endstop Pins W/ 5v

2x Thermistor (Compatible with Thermistors and PT1000) REV 2/15/2022 Now using a .1% pullup resistor for supreme high-temperature accuracy!

2 PWM fan outputs

Heater Output - 6A MAX

4 wire Stepper Motor

Single-connector CAN+Power

USB connector for Flashing Firmware and can double as backup signaling

TMC 2209 stepper driver with digital current control

Indicator LED's for quick status updates

ADXL345 onboard for easy input shaping and future features
CAN distribution board is currently in development which will combine same single-connector design for multiple toolboards on a single machine.
Changes from last produced set (V.5)
Added extra thermistor channel
Added 2x endstop channels
Endstops now support 5v
Cuttable traces on the backside now supports direct serial over 4-pin connector
Now comes in black!
Wiring 
Feature

Pins

Connector

Notes

TMC2209

Step:PB3 |  Dir:PB4  | EN: PB5 | UART: PA10 | TX:PA9

None

.110 Sense Resistor

Max recommended current – 1A RMS

Heater

PA6

Screw Terminal

Max recommended 6A

Thermistor

PA0, PA1

JST PH 3 Position

2.2k pullup .1%

Fan 1

PA7

JST PH 2 Position

Max 1A

Fan 0

PA8

JST PH 2 Position

Max 1A

Endstop Connector

PB10, PB11, PB12

JST PH 5 Position

5v Tolerant

Motor Connector

JST XH 4 Position

Pairs noted on board

ADXL345

PB1

None

Spare Header

CLK:PA14 | BOOT1:PB2 | SWDIO:PA13

Dupont 3x2 Header

Short Boot1 with 3.3V to enter bootloader mode

USB

PA11, PA12

Micro USB

No 5v+ input

Input Connector

CANH/CANL: (PB8/PB9) / USB: (PA11/PA12)

Microfit 3.0 2x2

CAN input default – Use solder bridges on backside to enable USB connection
Share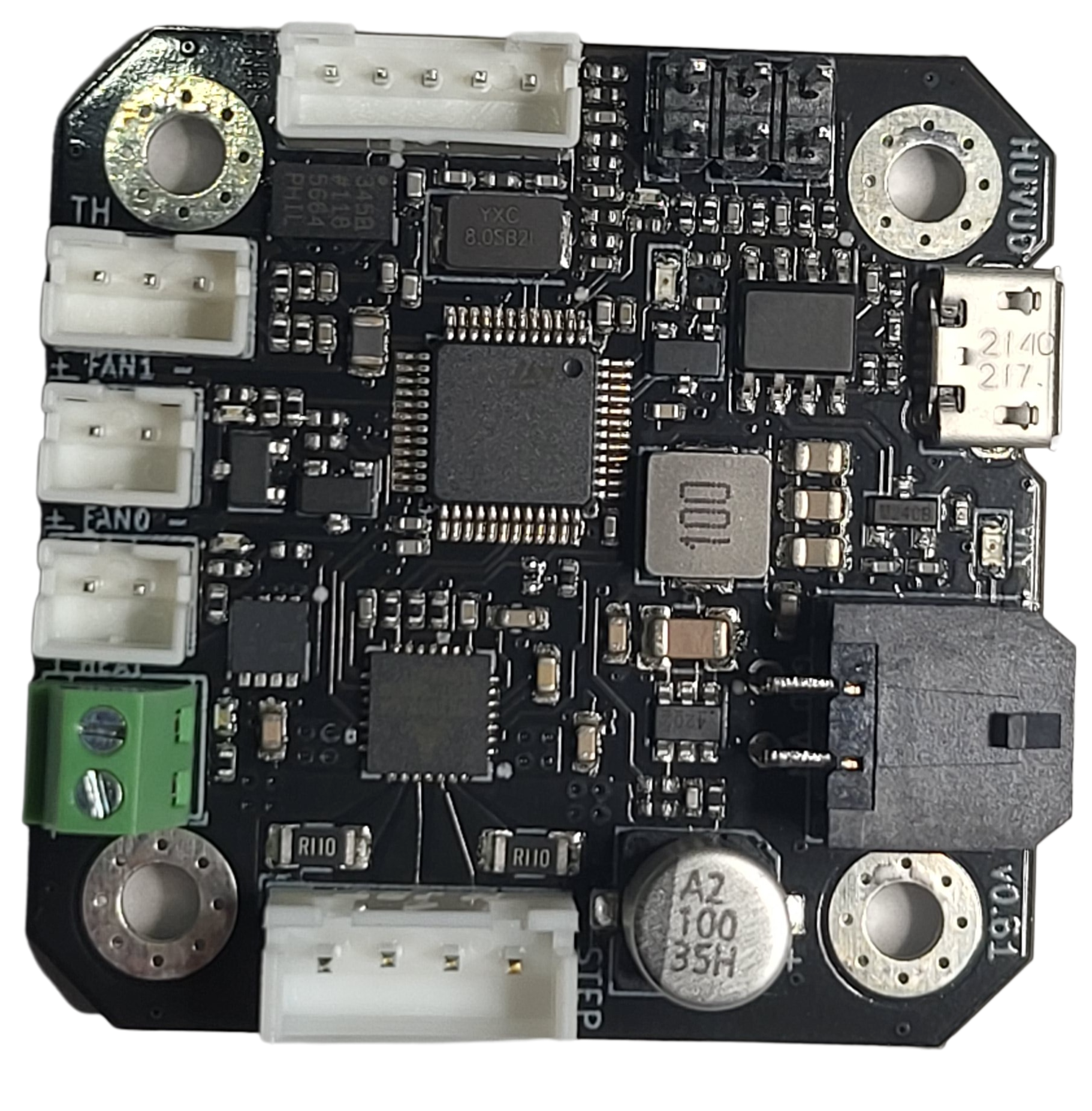 exactly what i needed!
the extra connectors and crimp components were a great addition to include! thanks for that!
Elegant ToolHead Solution
Was having all sorts of issues running a bundle of cables to my 3D Printer ToolHead. The Huvud ToolBoard presented as a solution. USB was advised rather than CAN Bus(This may be against the grain for some. Actually tested both, CAN Bus and USB). Took the advice, went USB, and haven't looked back! Rock solid performance and an easy solution with just a little tech knowledge. Four wires down from twenty plus is totally awesome and makes ToolHead maintenance and servicing very straightforward. ONE four pin connector to the ToolHead, that's it!